Farafina
Biography
FARAFINA was founded in the early eighties. Right from the beginning they were enthusiastically welcomed by their audiences who were fascinated by so much virtuosity.
Their ability to expand their music without denying their traditional instruments has enabled them to experience new forms and record with musicians such as Jon Hassell, the Rolling Stones, Ryuichi Sakamato, Daniel Lanois, Billy Cobham, Joji Hirota…they played several times at the Montreux Jazz Festival, and for 72 000 listeners at the famous Nelson Mandela's birthday concert in the London Wembley Stadium.
Their music interweaves complex and forceful rhythms and is carried by the melodic lines of balafons, flute and koras. The songs are played on traditional instruments while their lyrics deal with present issues of African realities in a critical though hopeful way.
But they stayed faithful to their own track. So while integrating new orchestral forms and melodies, and adding contemporary sounds (guitar and keyboard), the balafons, koras, flute, djembes, tama, and baras still remain the core and hearth of their music. Last but not least, the arrival of a female voice introduces a new colour to this up till now male only ensemble.
During their odyssey of 30 years the group naturally faced some changes. Thus, its founder Mahama Konaté left the group in 1991. Others came and went and still others died. New and younger musicians have joined the group. All came in through the so called "Farafina School" which continues the African tradition of having the children, from their youngest ages on, attend the concerts of their elders and trying to repeat the music they hear all day long. In this way an astonishing and remarkable musical continuity is guaranteed.
Farafina creates a subtle music that is sensitive and ardent at the same time. It draws your body and mind into discovering not only the African life but a universal life nourished with rhythms leading all the way to the roots of jazz.
Reinvented by encounters with modernity, Manding influences, the music of Burkina Faso's neighboring countries, the melodies of the people of Mali, Niger and the legends of Kong and the chants and drums of Ghana and Benin, all contribute to the richness of Farafina's work.
8 artists + 1 tour manager
Videos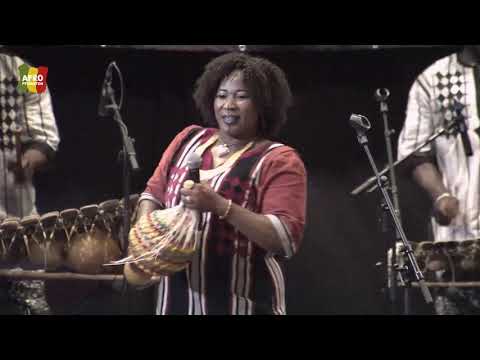 Discography
_No category_
Yosuke Yamashita Trio
No posts found
Solo Projects
No posts found
Compilation
No posts found
Collaboration
C. Santana
No posts found
Photos
https://www.artways.com/wp-content/uploads/2012/10/MG_5022-681x890.jpg
Suchen SK
https://www.artways.com/wp-content/uploads/2012/10/SUC15322-592x890.jpg
Suchen SK
https://www.artways.com/wp-content/uploads/2012/10/SUC1551-592x890.jpg
Suchen SK
https://www.artways.com/wp-content/uploads/2012/10/SUC1583-592x890.jpg
Suchen SK
https://www.artways.com/wp-content/uploads/2012/10/SUC1600-copy-890x802.jpg
Suchen SK
https://www.artways.com/wp-content/uploads/2012/10/SUC1611-890x815.jpg
Suchen SK
https://www.artways.com/wp-content/uploads/2012/10/SUC1759-890x592.jpg
Suchen SK
https://www.artways.com/wp-content/uploads/2012/10/SUC1764-592x890.jpg
Suchen SK
https://www.artways.com/wp-content/uploads/2012/10/SUC1766-592x890.jpg
https://www.artways.com/wp-content/uploads/2012/10/SUC1770-592x890.jpg
https://www.artways.com/wp-content/uploads/2012/10/SUC1772-890x592.jpg
https://www.artways.com/wp-content/uploads/2012/10/farafina_Mich-Shippen-597x890.jpg
https://www.artways.com/wp-content/uploads/2012/10/farafina-2-890x602.jpg
https://www.artways.com/wp-content/uploads/2012/10/farafina-3-890x593.jpg
https://www.artways.com/wp-content/uploads/2012/10/FaraNZ_Mani1-890x665.jpg
Tahnia Roberts
https://www.artways.com/wp-content/uploads/2012/10/Farafina-NZ2008-890x670.jpg
Tahnia Roberts
https://www.artways.com/wp-content/uploads/2012/10/SUC16111-890x815.jpg
Suchen SK
https://www.artways.com/wp-content/uploads/2012/10/SUC1756-890x592.jpg
Suchen SK
https://www.artways.com/wp-content/uploads/2012/10/12087312_690033264467417_787228498815359468_o3-890x593.jpg
Sharon Ovidia
https://www.artways.com/wp-content/uploads/2012/10/12079897_690033354467408_3345090415042493883_o-593x890.jpg
Sharon Ovadia
https://www.artways.com/wp-content/uploads/2012/10/12109791_690033244467419_873587370964102564_o-890x593.jpg
Sharon Ovadia
https://www.artways.com/wp-content/uploads/2012/10/10834940_690033037800773_7080865690181500404_o-890x593.jpg
Sharon Ovadia
https://www.artways.com/wp-content/uploads/2012/10/12120100_690033104467433_3801917484166097307_o-593x890.jpg
Sharon Ovadia
https://www.artways.com/wp-content/uploads/2012/10/12138618_690033084467435_9161289896775196679_o-593x890.jpg
Sharon Ovadia
https://www.artways.com/wp-content/uploads/2012/10/12140197_690033151134095_3097835137128183637_o-890x593.jpg
Sharon Ovadia
https://www.artways.com/wp-content/uploads/2012/10/11223829_690033121134098_5200619972821181887_o-890x593.jpg
Sharon Ovadia
https://www.artways.com/wp-content/uploads/2012/10/11731664_690033287800748_3860487110795014103_o-593x890.jpg
Sharon Ovadia
Press
---

Mick Jagger  talking about Farafina
I came across Farafina because of Charlie Hart who is a friend of my brother and knew all about them. They came to play on a track called "Continental Drift" on the "Steel Wheels" record. Mick Jagger
Songlines July 2013

---

Farafina, Echoing an Everyday Living _ www.listentotheworld.net _ Malaysia
FARAFINA was founded in the early eighties. Right from the beginning they were enthusiastically welcomed by their audiences who were fascinated by so much virtuosity.

Their ability to expand their music without denying their traditional instruments has enabled them to experience new forms and record with musicians such as Jon Hassell, the Rolling Stones, Ryuichi Sakamato, Daniel Lanois, Billy Cobham, Joji Hirota. They played several times at the Montreux Jazz Festival, and for 72 000 listeners at the famous Nelson Mandela's birthday concert in the London Wembley Stadium.

Their music interweaves complex and forceful rhythms and is carried by the melodic lines of balafons, flute and koras. The songs are played on traditional instruments while their lyrics deal with present issues of African realities in a critical though hopeful way.

But they stayed faithful to their own track. So while integrating new orchestral forms and melodies, and adding contemporary sounds (guitar and keyboard), the balafons, koras, flute, djembes, tama, and baras still remain the core and hearth of their music. Last but not least, the arrival of a female voice introduces a new colour to this up till now male only ensemble.

During their odyssey of 30 years the group naturally faced some changes. Thus, its founder Mahama Konaté left the group in 1991. Others came and went and still others died. New and younger musicians have joined the group. All came in through the so called "Farafina School" which continues the African tradition of having the children, from their youngest ages on, attend the concerts of their elders and trying to repeat the music they hear all day long. In this way an astonishing and remarkable musical continuity is guaranteed.

Farafina creates a subtle music that is sensitive and ardent at the same time. It draws your body and mind into discovering not only the African life but a universal life nourished with rhythms leading all the way to the roots of jazz.

Reinvented by encounters with modernity, Manding influences, the music of Burkina Faso's neighboring countries, the melodies of the people of Mali, Niger and the legends of Kong and the chants and drums of Ghana and Benin, all contribute to the richness of Farafina's s work.

So, with joy and excitement, we present to you our interview with one of their personnel, Souleyman, with the help of translation by their manager, Denise Wilcke (we also interviewed her and featured in the box at the end of this article), done in early August 2011. Hopefully you will find inspiration and encouragement as much as we do.

Aryo Adhianto: West Africa—in which there is Ghana, Mali, Senegal, Nigeria, and of course Burkina Faso—is perhaps one region in Africa that hard to find rivals in the realm of rhythm, melody, and texture; What is exactly the common musical tradition(s) among them?

Farafina: also Ivory Coast – Niger – Togo – Benin – Liberia – Guinee – Sierra Leone…

The instruments are pretty much the same – the balaphone – also the talking drums but the melody changes from country to country…

The djembe, the doum doum, the Sabar (percussion) is traditionaly from Senegal… you can find the djembe and the Kora, N'goni (bass guitar) in West Africa.

And what are the unique characteristics of Burkina Faso?

Traditional music – the way to approach, to play with the instruments and the rhythm and the dance are different from the others countries

So basically it depends on the environmental settings from each country?

What do you mean?

I mean the natural environments, to even the traditions within every country…

West Africa is a region and the countries inside are different. Before the countries were separated, it was a big empire - the Mandingue Empire

And how do you think the West Africa can reaches such "level" in a continent that is known to many people as one of the musical centers in the world?

It is cultural – it's part of their everyday life.

Why specifically in the West African the music is more known than in the others countries in the continent – we don't know…

Now let's discuss about Farafina; what is the background for the birth of the musical group Farafina?

It's part of their ancestral tradition…

Do did you mean the traditions were already musical at the very beginning?

Yes, definitely!

Every ethnic within the country has its own tradition… In Burkina Faso, there are 64 different ethnic groups; so imagine the richness of diversity there!

Every ethnic has their own languages and rituals; there is the dance of initiation to pass from puberty to becoming a man, dance of the masks, the dance of rain, etc… And every dance has it's own rhythm. Oh, and there also dances and rhythm for funeral, for the wedding, for the baptism, etc…

Burkina Faso means the country of humble people.

And those rituals are part of where your members have their musical training?

Yes, definitely! But it's there… in their life daily.

When you walk down the street in the neighbor called "Bolomakoté," you hear music; Farafina is from there—the city called Bobo Dioulasso—the cultural city.

And align with the international recognitions as a musical group since the early 80's, we also heard about the infamous "Farafina school" that intended for professional and aspiring musicians in Burkina Faso; can you tell us more about it? And in what way does it relate to your musical continuity?

It's not a school where you leant how to read and write—it's more for the youth who is close to the group—and when the elder are finished with the rehearsal, the younger now take the instruments and play.

So when Farafina needs someone to replace one of the musicians they choose the replacement from the young one listening to the elder and being from the school.

To get a better perspective, in Bolomakoté everybody know each other and their families, so they know who is inclined to become a good musicians or dancer… and who has discipline! You cannot just be a good musician; you need also discipline and hard work.

During the Farafina's odyssey for more than three decades now, what are the changes that occur within the group?

The generation has changed, and the arrangement they compose is inspired by all the great musicians they met along their odyssey; some people have passed away and some new have come…

Inspired by all the music they heard all along these past years touring around the world, although the traditional rhythm is a little different than what you hear on their album…

Right… so the intergenerational value is very much the same with how they live their daily life?

Yes. The respect of the elder.

The music of Farafina are very much associated with the elements of African roots music—the polyrhythmic sound, and the heavy use of traditional instruments such as Balaphones and Djimbe; Do the growing use of electric instruments and amplifications affect the acoustic features of Farafina?

Farafina kept the traditional instruments and this is their power; they respect what others do, they also can work with the electric instruments. But they always wanted to keep the traditional instruments to stay close to their roots and African identity; they do not want to leave the tradition because they feel they would loose their roots.

During the last few decades, there are many musicians that try to combine traditional and "modern" music—perhaps most of them have been the "modern" music trying to incorporate traditional instruments—in order to achieve some kind of a new form of music; any opinion about this matter?

We understand why they added those electric instruments to the tradition—Farafina did an album with some modern instruments but when they tour it is totally traditional—they can also work with modern instruments to go some other places musically.

Music has no border, and it is universal… but the roots will always be their base.

But nowadays, music in general seems to transform into a mere "entertainment" product and income generating activity, while the spiritual aspect of music continue to disappear; does this happen to African roots music as well?

Certain people yes probably, but not with Farafina.

Farafina is "modern" with traditional instruments – they have changed a few of the rhythm, but the spiritual side and cultural aspect is there

Yes, I noticed… so can you tell us how does Farafina face all challenges that the future may bring?

Yes, they have faced lots of challenge – with the experiences they had, they have changed a few musical aspects and they hope that the public who follows the group will find harmony and satisfaction.

The challenges were to not fall into changing direction totally—get into electronic—but it is good to collaborate with any musicians or groups, so to say that even with traditional instruments they can meet with electronic and modern music; so collaboration are so important to us.

Would you explain one or two collaborations in which you gained great experiences?

Yes! With Jon Hassel (trumpetist) the experience was amazing! Thanks to this collaboration, they went to Japan, to New York…

Then they met others musicians like Daniel Lanois, Rolling Stones, (Ryuichi) Sakamoto – this was an AMAZING musical and human experience.

Right… But we also see a tendency on which "Fame and fortune" seem to replace passion as the instrument in measuring the "success" of an artist. How do you respond to this matter?

We all want to make decent money… but we can also have money by keeping the tradition—we cannot abandon where we come from—one day we can loose everything, but never where we come from.

Any dreams that are now being pursue to be achieved in the future?

The dream never stops… they want to continue to tour the world, and really want to continue collaborating with others musicians.

Great! You also have traveled distances to perform, and have had many chances in getting familiar with music of other cultures. Are there any of them that inspire or impress you more than the others? And why?

All music has inspired Farafina; in Ubud, Farafina saw musicians play with tabla instruments and traditional instrument from Indonesia… the dream would be to do collaborations together—because some instruments are similar like the balaphone…

It would be a dream come true to see Farafina do performances and collaborations! Anyway, you came to and performed in the Sacred Rhythm music festival in Bali, Indonesia, at the turn of the year 2000; would you join again if Sacred Bridge Foundation organized another cultural event?

OF COURSE !!! We LOVED it!!!

Unique experience !

Any messages you would like to say to the audience?

The message is that—life we live now—we should all hold hands, and move forward together… some places in Indonesia is so inspiring! And union makes us stronger.

Right!! And last but not least, any words for Listen to the World?

The message is, if you are black or white or any other color, we should all live together… when I cut myself, the blood that comes out is red—even if you are black or white or yellow—there is only one race, the human race…

Okay, that would be all. So Denise and Mani, thank you very much for your time and kind attention…

Thank you for your interest to the music and Farafina.

And of course, thank you for your contribution to the world of music!

It is part of us…

(aa/aw)

September 9th, 2011

Aryo Adhianto, Malaysia

---

Managing the traditions
An Interview session with Denise Wilcke

Managing a group like Farafina, certainly presents its own challenges and countless of stories. For Denise Wilcke, which also manages several other groups under the banner of Artways Productions, Farafina is not just a musical group that presents entertainment. Moreover, the income generating machine. And of course, her experience as the woman behind the screen would be too good to be missed. So what it is like to be one of the figures who helped shape the cultural and commercial success of Farafina? Let's find out…

Denise, since when do you manage the activity of Farafina music group?

Denise Wilcke: almost 20 years…

And why are you interested in managing Farafina (compared to other music groups in your country)?

It happened this way and since we met, we created a link that is still alive—my mother has her roots in Lybia and Sicily… so maybe it is my African ancestors coming alive through Farafina.

What are the unique challenges that you face while managing Farafina?

Concretely, the visas are a problem going around the world…

But musically, when I see them on stage I know why I work with them… they make me proud and the feeling I have when I see them is powerful!

So do you mean that as a manager, you have to have the connection with the music itself?

Not only the music… It is their personality and their culture…

How do you, personally, perceive African roots music?

African roots music…well, as we said, it is different from different countries; African has 50 countries, so things are very different from North to South… but I really like the traditional music with not electric instruments.

And very few groups keep only the traditional instruments like Farafina…

I worked also for a long time with another band from Burkina Faso called "The Coulibaly borthers"; very traditional also…

I supposed the music, and the culture, were already in your blood too?

Definitely! All the groups I work with are traditional…

You can check my website www.artways.com

Now Burkina Faso is home to more than 60 indigenous ethnic groups (64 as you mentioned earlier), and not to mention the unpleasant economic reputation among other nations in the world. However, it has known peace that some of its neighbors can envy. How do you reply to this matter? Does music gave a crucial role in maintaining such stabilization?

Well, I don't think so… it is also an internal country with no access to the ocean… so less people and more peace.

Oh, I see. Do you live there also?

No, I have been there many times but I know them pretty well – I live now in Switzerland… used to live in New York too.

We hope to work with Sacred Bridge Foundation again this September…

Denise, last question, as a manager of such a unique musical group, what is your expectation(s) towards the music "industry" in the future?

My music expectation is to continue with Farafina, and hope for more collaboration with other style of music such as Philharmonic orchestra—or musicians as Jon Hassel, Carlos Santana etc…

To move forward, to reach more people…

Great! We hope things are going your way Denise!

Thank you.

Okay then, that would be all. Again, thank you very much for such an inspiring interview!

September 9th, 2011

Aryo Adhianto, Malaysia